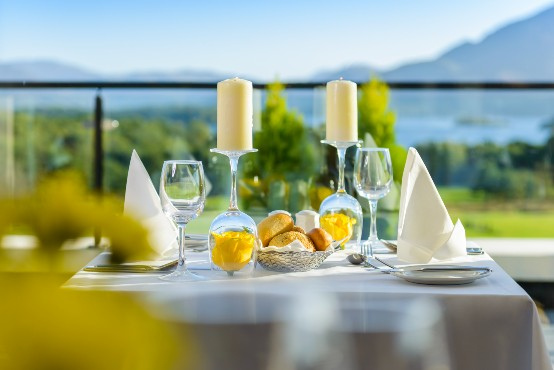 We are excited to announce the return of our popular Sunday Lunch Season at the Grosvenor Restaurant, kicking off next Sunday the 12th September from 1.00pm to 2.30pm.
We would love to welcome you and yours to join us so here's a little taster of what's in store…
Traditional Sunday Lunch With All The Trimmings
Our traditional Sunday Lunch has long since been renowned for its quality of produce and freshness of taste. Our menu changes weekly, however you can always be assured of a sumptuous Roast Of The Day such as a freshly carved rib of Roast Beef or Lamb, a fresh fish dish including wild Salmon or Cod, as well as a tasty vegetarian and vegan option of choice, all served with seasonal vegetables and potatoes.
We also offer a range of delectable starters and delicious desserts and of course, a selection of refreshing wines, beers and soft drinks.
At the Grosvenor Restaurant, we invite kids to enjoy the true Sunday Lunch experience with a Homecooked Joint Of The Day as well as all the usual kiddies favourites, including Bangers and Mash, Chicken Goujons and Chips and Spaghetti Bolognese.
Local Produce At A Value Price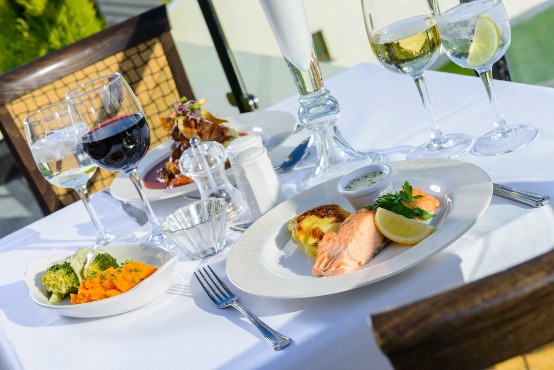 We are passionate about home grown and only work with the very best of local suppliers so that we can ensure freshness of taste, from their fields and farms to your table.
Our local suppliers include Tommy Cronin for the most succulent of meats, Star Seafoods for the freshest of fish and O'Sheas Fruit and Veg for all our seasonal produce.
This year we are delighted to be able to complement our mouth-watering menu with homegrown herbs from our very own Biodiversity Garden, as part of our Resort's Green Agenda. This means you can experience the fresh taste of our very own garden grown mint, rosemary, basil and thyme in a variety of our dishes, because it's the little things that count.
At the Castlerosse Park Resort, value for quality has always been part of our proposition and that certainly goes for our Sunday Lunch with a 3 course Sunday Lunch for €27.00, 2 courses for €23.00 and a Kids Sunday Lunch for €15.00.
A Magical Setting For Every Occasion
Our Grosvenor Restaurant caters for a range of special occasions including birthdays, christenings, engagements and anniversaries.
Our Hospitality Team are dedicated to making every moment magic, so it really is the perfect location to catch up with all the family to celebrate those momentous times in life.
If you have a celebration coming up that requires an extra touch of care and attention, then contact us about how we can make the day a special one for you.
Service With A Smile & Space To Enjoy
We believe in outstanding service every time. Our knowledgeable Team will be happy to speak with you in advance if you have any little requests to make your Sunday Lunch that bit more memorable - so from a table by the window to a birthday cake, you can make memories that will last a lifetime.
Grosvenor Restaurant also offers a spacious location for a unique dining experience so you can feel safe and private with your loved ones at all times.
Panoramic Views In A Parkland Setting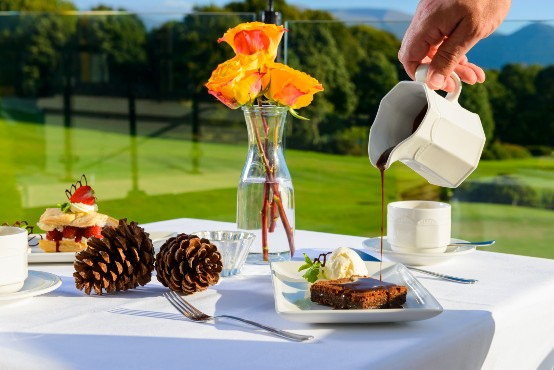 Our panoramic Restaurant offers some of the most privileged viewpoints of Killarney, including the magnificent MacGillycuddy Reeks and the breath-taking Lakes of Killarney with spectacular 360-degree vistas. It is the ideal location to watch the daily flow of the Park with a wonderful combination of wildlife and scenery on offer.
The location of the Restaurant in the centre of the Killarney National Park, also provides a superb opportunity to enjoy a Sunday stroll and work off the indulgence of lunch, with a variety of walks to choose from. So why not make a day of it and let us take care of the rest.
If you would like to reserve your Sunday Lunch experience with us at the Castlerosse Park Resort, then don't delay and contact our Restaurant Team today on 064 66 31144 to make your booking.